Binderless diamond (UltraDiamond), the hardest single crystal
Single-crystal elements for our tool cutting corners are lasered out of diamond blanks in a defined orientation using laser segmentation technology. This new technology makes it possible to solder a monocrystal (UltraDiamond) onto any tool carrier under high vacuum, in addition to the highly hard polycrystalline cutting materials like PCD and CVD-D. Compared to PCD, the tool life can be increased by approx. 15-25 times and to CVD-D by approx. 2-5 times.
The areas of application are similar to PCD and CVD-D, but this monocrystalline cutting material offers a further significant increase in tool life for all applications where PCD and CVD-D reach the limits of economic viability.
Economical machining of very hard, highly brittle materials such as: Ceramics, glass, glass-ceramics and hard metals with low cobalt or nickel binder (< 10%) is possible with the UltraDiamond cutting material.
With UltraDiamond you can machine:
Carbide <10% Co
Ceramic
Glass ceramic
Highly abrasive and brittle, non-ferrous materials
and more…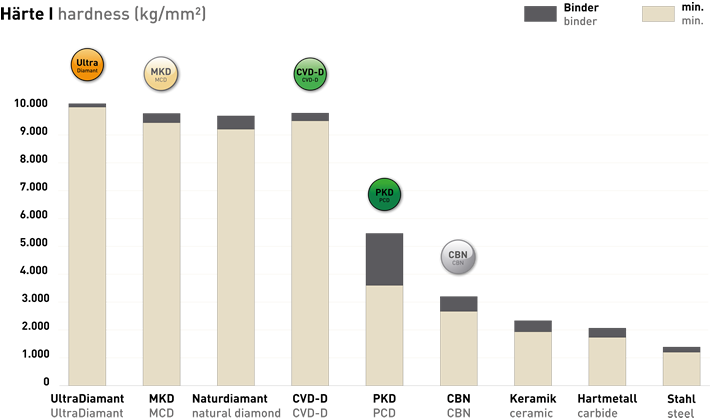 DTS GmbH
Hans-Geiger-Strasse 11a
D-67661 Kaiserslautern
Customerservice
Business times
Mo. – Fr. 8:00 am – 16.30 pm
Contact
T: +49 (0) 6301 32011-0
F: +49 (0) 6301 32011-90